Self-Portrait
Photographs, Caps-titles and Texts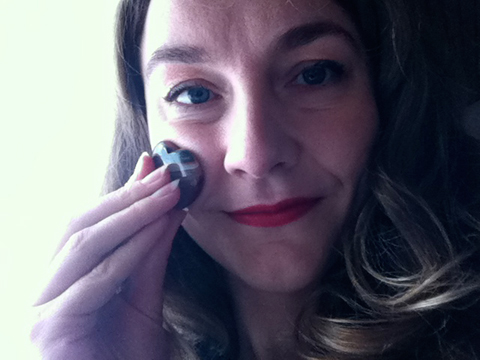 The [Self-portrait] series shows photographs in irregular series made with the iPhone from my own face/hair and mostly upper body in its environment. It is titled in caps accompanied by City/Country and Date. The caps title, states something about my mental or physical condition. For example Kim Engelen, [Self-Portrait] 16 jun. 2012, Kassel/Germany, AFTER WATCHING ART, No.3.
Additionally the work has quotes from people that state their opinion towards me (be it family, colleagues, good friends, facebook 'friends' and complete strangers).
Weekly I write about this work [Self-Portrait] and the [Bridges] series on my blog, where I relate my work to information outside of myself (other artists, texts I have read, documentaries) and ask myself questions regarding the work and slowly developed my work visually by doing this. Questions can be: Why these series of multiple pictures? Why donít I choose one?
For now this work is only fragmentally online visible, there may be a booklet in development with the series of photographs, caps titles, quotes, accompanied by text written on the Self, relating from books/text I read during the development of the work. For example mapping of SELF in text Henry A. Giroux, Neoliberalism and the Vocationalization of Higher Education, 2010;
Self-interested
Self-restraint
Self-help
Self-critical
Self-definition
See draft of this layout>>

Blog with reflection text and quotes>>

Some photographs in the series>>

| | | |
| --- | --- | --- |
| Credits: | | |
| Photographs | | Kim Engelen [Self-Portrait] |
| Locations | | Berlin/Germany, Kassel/Germany, Maasbracht/Netherlands, Malmö/Sweden, Copenhagen/Denmark |
| Thanks to | | All the people who expres their thoughts |
| Format | | Photo's mostly iPhone |
| Starting date | | February 18, 2012 |