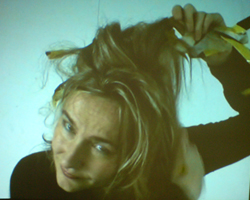 The shift between acting and reality in the art of Kim Engelen.

I am a performance artist from the Netherlands and curator of the Sub urban video lounge in Rotterdam, a small projection space concentrating on art video, especially works where the various art disciplines overlap.
Recently I came across Kim's work and I was surprised about the interesting performative aspect of it. We showed her work 'Borderlines tape # hair' in a compilation and we planned to show 'Love me' and 'Superior' in a compilation called 'Acting, not acting: artists in front of the camera'. Although Kim's work is very wide, I am specially impressed by the works concentrating on those performative portraits. Those works show a fascinating tension between acting and just being there in front of the camera. Kim is playing with this concept of acting as an artist: when she looks into the camera and asks: Do you love me? you feel as a viewer obliged to answer her, it is like an explosion of emotion. But still it is an autonomous act, not a theatrical act: it is obvious that the question has the same impact on Kim herself while performing it: each little vain or muscle in her face is reacting: an actress would have more control, could do it more 'realistic' and therefore be less 'real'. In the same way one can have doubts if the people performing in the work 'Superior' are actors. It is especially this conceptual element that gives Kim's works a strong autonomous character, which can also be experienced by the cutting of the images which, although clearly organized, are not aiming towards filmic/dramatic effects. 'Borderlines' is the registration of a nearly classical performance: The painfully realistic and at the same time hilarious situation could have tempted Kim to 'over act' to be funny, but she did not: she is not acting, she is 'real' as far as 'real' can be in her opinion as an artist.

Kim Engelen's works tend very strongly to performance, film and theatre but they are none of this: they are autonomous works of art, embedded in a tradition of the visual arts.