Video 'Time to'
27'20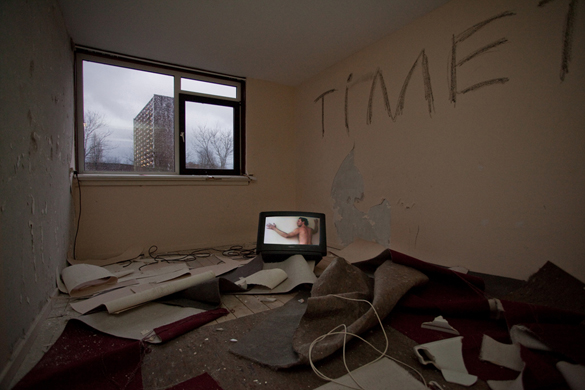 Watch Video>>

This video is part of an in situ video-installation during an Artist-in-residence of Kim Engelen
at foundation id11 in Delft/Netherlands.
Tag-line
Sensitive man demolishes his apartment with a sledgehammer.
We see a man looking outside of windows in his empty house. In close-up we see his facial expressions. The man writes on the wall: Time to. The hand-held camera observes him while he systematically demolishes his home and the life he once knew. All the cupboards and the electricity sockets are being destroyed with a sledgehammer, the carpet is being torn out, and the lavatory is getting hammered of the wall. While more and more in the house gets destroys the man looses more and more clothes.
The video-installation is presented in the same house that the man in the video has ruined.

Shown:

- In situ: 27.12.2009, Foundation id11, Delft (NL)
- Rotterdam TV, 'CO2 free TV', Netherlands

Credits:

A film by

Kim Engelen

Actor

Georges Devdariani

Clothing

Wendy Rombouts

Photograpy
Vincent Buller

Format

16x9, DV Cam

Original length

27'20

Date

Production 23 December 2009/Premiere 27 December 2009 Delft (id11.nl)