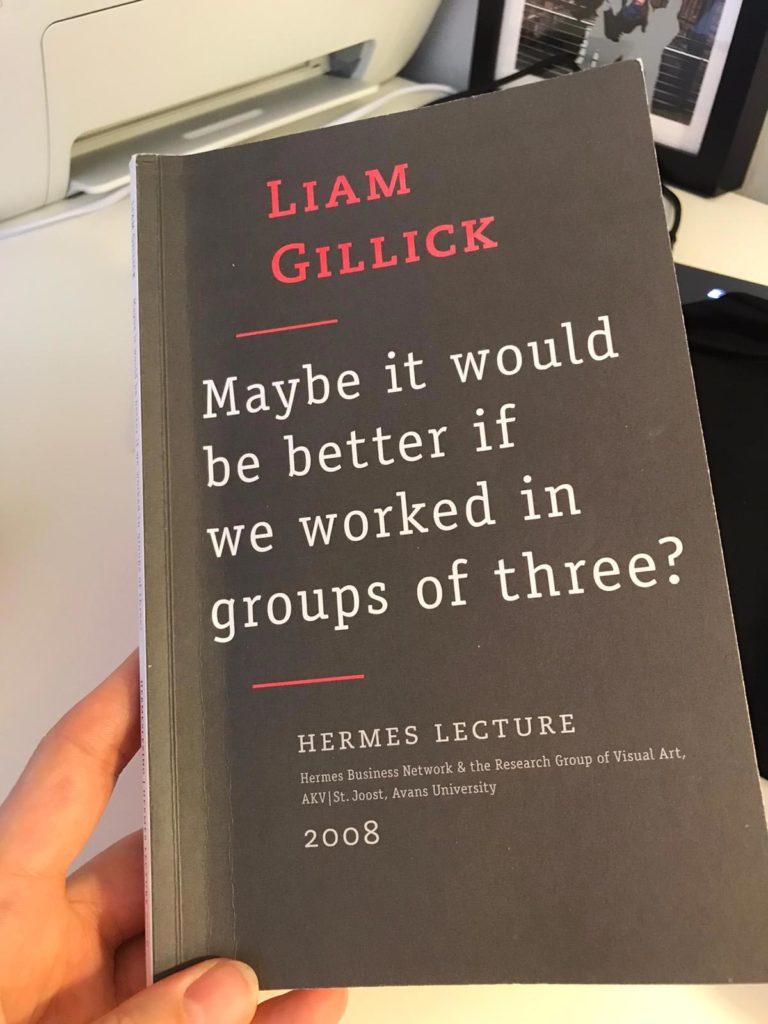 Title: Maybe it would be better if we worked in groups of three?   
Author: Liam Gillick.   
Year: 2008.  
The Hermes Lecture is a biennial lecture about the position of the visual artist in the cultural and social field. It takes place in 's-Hertogenbosch and is a collaboration between entrepreneurs' network Hermes and the Research Group of Visual Art at the art academy AKV | St. Joost, Avans University.
This essay began as a series of seminars given by Gillick at unitednationsplaza, Berlin. A version of this text was given as the 2008 Hermes Lecture/AKV St. Joost, Avans University, NL.
Probably not a book I will read again. It is more of a temporary stimulus or experience. Like an exhibition which you attend. And then that was that. It touches on some ideas. Some interesting. But it does not follow through. it is not critical discourse. I do see that this is about the position of the visual artist in the cultural and social field. 
Throw in a catchy title. (All) familiar big hotshot names. Create a platform in Berlin with other established artists. And a nice design and you have a book. Exactly—discursive art practice. It shows how far you can come as an artist if you have the right (preferably male) support. The book feels outdated. 
It is production. And it is art production. Is it discursive art practice? It is Liam Gillick's discursive art production practice. 
Does the book deliver (it's title)?:
No. Unclear cover text. Unclear title. This book is about discursive art practice defined by Liam Gillick. 
In the Introduction by Hans Brens and Camiel van Winkel: Today's internationally operating network artist is in some respects nothing but a variation of the flexible employee who is prepared to answer emails and prepare presentations in the evenings and weekends too. 

The site of production today often exists within the text alone.

If we want to understand tendencies in art we have to look at underlying structures. This is especially true when we consider discursive processes as the base of self-conscious art practices.  

All of this is problematized by the idea of nostalgia for the group. Art provides a reflection of values, yet within the discursive this is inextricably related to the role-playing as part of an educational legacy of co-operation.

Difference and collectivity are semi-autonomous concepts in the art context. The logic of their pursuit leads us to the conclusion that we should destroy all traditional relations of production in order to encourage a constant recognition of disagreement and profoundly different aims within a context of desire. 

Working situations are not changed; the idea is that 

you

 have to change.
"Both the success and the failure of the discursive framework are linked to various post-war phenomena connected with identity politics and post-colonial theory. At the same time this discursive is suspicious to and hesitant to the idea of a key protagonist. Without key protagonists, however, it's hard to know what to do and when to do it. Still, the lack of learning voices does permit the discursive to evolve and include."
I noticed this too with my two times tested model "Communistic Curating". Quite a few (if not all) artists wanted a leader to leach/lean on. So, that they can do their production (art time) and have the pleasure of it. But not to do the other time required tasks connected to the project (work time). And the leader doesn't want to be the leader since she thinks all artists are equal. What happens is that either the project fails or the new younger curator group takes over.
This book made me realize that Gillick in that sense is quite smart how to have all these aspects juggled and his name clearly and pontifically present. So in that regard an interesting book/artist. Gillick: "Is the discursive actually a collaborative model?"