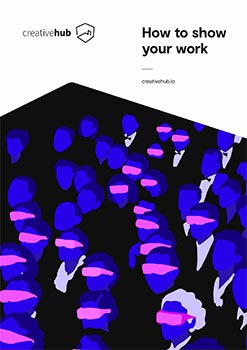 How to show your work is a new book from creativehub about successfully growing your art career. Written with the input of our 75K users, this free book walks you through the methods for showing your artwork then provides actionable advice for strategy, curation, exhibiting, publishing, marketing and much more.
'How to show your work' is a free book packed full of practical advice on how to progress your art career.
Everything is highly researched and based on data, or advice from leading industry experts. Perfect whether you are just starting out or you are looking to level up.
Specifications:
Clearly written with practical advice
9 case studies with industry experts
164 pages of practical advice
Written with a slightly different angle than most books in this genre. Which is quite refreshing. With case studies from nine professionals, a table of nice ways of showing your work (with cost, time to plan, and key tasks to do). And other art career data. The stories from the professionals I found most interesting. This book is pleasant to read by its fresh design.
Does the book deliver (it's title)?:
Yes.
Although my Biggest Take Away's from this book are different.
Do something that you are proud of. 

Work with people you like and try everything. 

Communicate your vision (for me this is about the human experience, connection, and interaction).

Repetition is essential.

Find a way of speaking about your art which is concise, informative, and interesting. 

Involve very compact and emotive quotes. 

Use social media to create a real-world network. 

Arrange review meetings 

Always be prepared when there is an opportunity.
The fact that I found this book (by targeted advertising) shows that big companies with big budgets will probably become the big players who will be consequently the most visible online. Which might mean those become the new (artistic) gatekeepers. And/or clogging the gate for artists to autonomously get exposure.
Get a heads-up when the next art book review has been added: