Art prints are more valuable when they are hand-signed by the artist. However, if the artwork you want to buy does not have a signature, you can ask for other signs of authenticity before making your purchase. For example, with my art, I always also give a Certificate of Authenticity. On this, there is my signature too.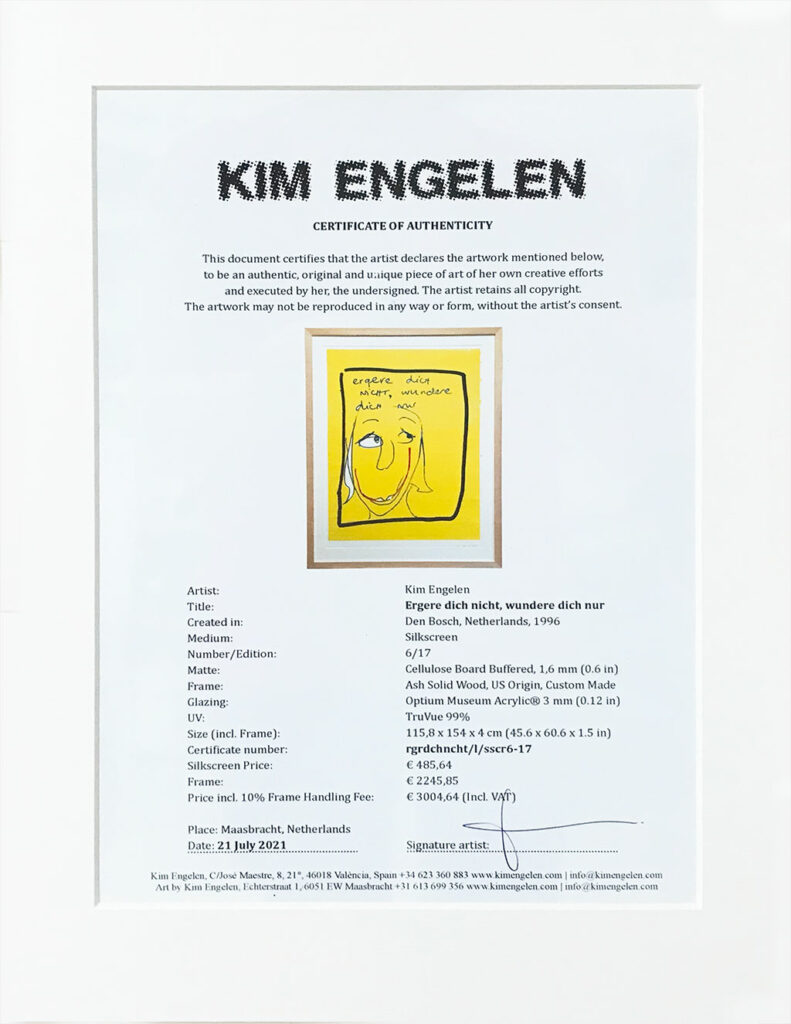 In the video, I show the signing of 18 silkscreens: ergere dich nicht, wundere dich nur. (1996). Every silkscreen I numbered with two numbers, divided by a slash. For example: 1/18. Left of that slash is the number of that particular print (paper 1). Right of the slash-sign the edition number, the amount of the series. In this example 18.  
This way, collectors can be assured that this is a finite edition. You know how many prints were made. And thus that no other prints will show up later. Which potentially could drive down the value of the print.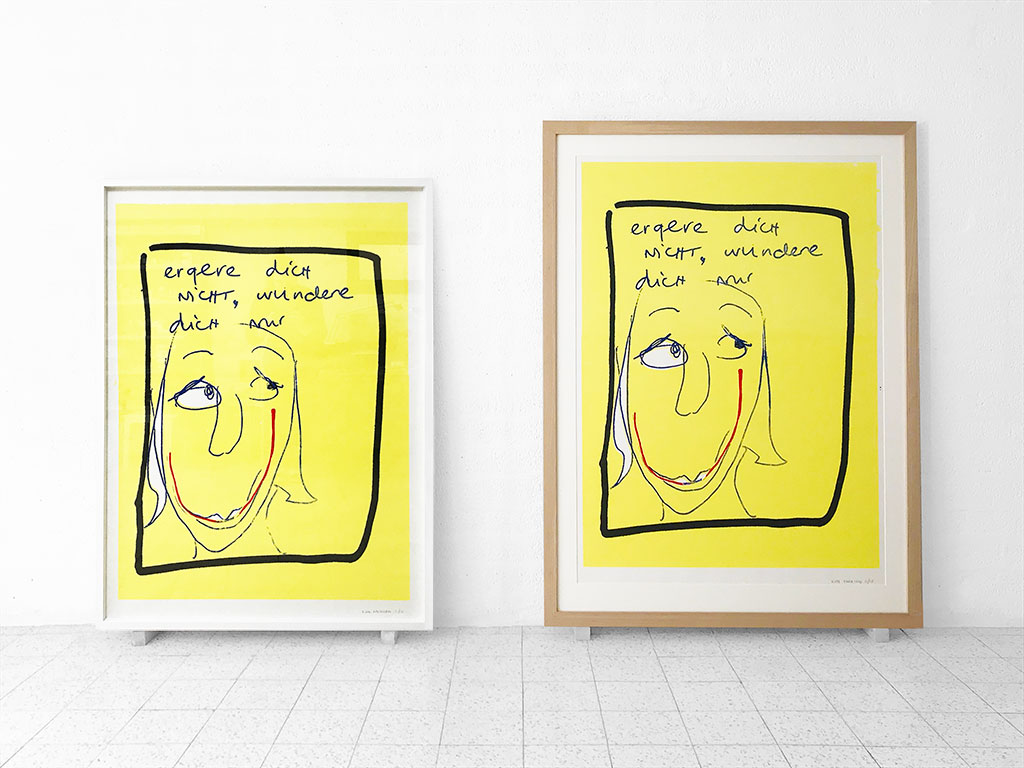 Generally, editions are less valuable than, for instance, a drawing, painting, or sculpture. They are not unique (one-piece only) artworks. Therefore for collectors acquiring prints can be a great way to begin, or supplement, a collection.
I price my artworks by using the per linear cm method.—Which is currently € 9 per linear cm. With prints in an edition of a maximum of 20, I decrease the price by 80%. 
For example:
With the medium sized silkscreen prints (shown in the video):
29,9 + 42,4 cm = 72,3 x 9 = € 650,70. 
20% of € 650,70 = € 130,14 per print (VAT included).
Large silkscreen:
100 + 150 cm = 250 x 9 = € 2.250,00
20% of € 2250 = € 450 per print (VAT included).
As a comparison, my Digital Downloads cost 6% of the price of the original art piece. 
Name

 of the artist.

The number of that particular 

print

 (paper). Plus the number of the 

edition

 (with the silkscreen prints in the video 18). For example, 1/18.

Year of creation. (Optional).
Description of the silkscreen
Nicht Ärgern nur Wundern is a German saying. It means something like, don't get annoyed, be amazed. 

The original sentence of the German proverb I switched around. And the verb to annoy "ärgern" is written as "ergeren." Which has the same meaning, only is written in the Dutch language.

The face is drawn with the same blue pen as is the sentence. With here and there some white gaps. These might show a mixture of confusion, sadness, hope, and surprise. Around the face and text, I have drawn a black frame.

The smile I have stretched and colored red. The red almost touches the right eye, which is colored black. 

The bright yellow background could stand for humor, the sun, and happiness. And almost the whole silkscreen is imbued with this yellow color. Here you have to join it!

In our lives, it's not all happiness and sunshine. Perhaps this silkscreen can give you some mental help when you encounter difficult people or strange situations. And you remember the words: ergere dich nicht, wundere dich nur.
Do you like this type of art and this kind of information? 
Fill in your email and receive it directly in your inbox.