This drawing is made on Bristol paper. It is paper from a tear-off paper block. The block consists of 25 sheets of paper (when I continued the project in 2022). It is 250 g/m2 – 120 lbs. Din A6 format. Which is a postcard size (10,5 x 14,8 cm (4.1 x 5.8 inch).
Ankit asked me via Instagram to make this drawing for Asmita. I also made a drawing for Ankit on his birthday on 07 June 2021. And since then we are in regular contact via social media. Very typically Asmita is on no social media platform. Not Instagram and neither Facebook.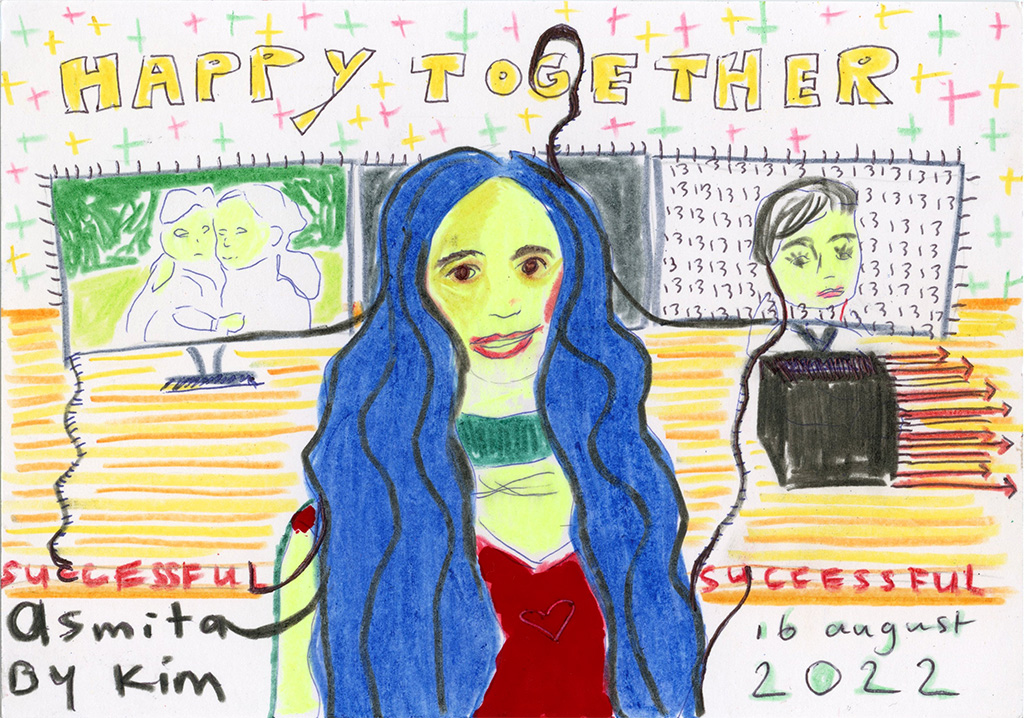 Ankit told me that she was a bit shy and that it is why he asked me if I could make a Happy Birthday drawing for Asmita.
When I agreed he send me an email with the following information:
"She is a single mother, she is also a strong lady. Since childhood she alone did everything for her child, she works plus looks after him as well, it's like her child is her private world.
Birthday: 16th Aug 2022
Her wish is: I want to be the best mummy and a successful woman.
And I have attached her photo too. Choose what suits you best."
I checked online and her Zodiac sign is Leo.
Her color is Raspberry. Her symbol is the cross.
Her birthday is on the same day as Madonna's.
And her strength is in interaction.
I wanted to know a little bit more.
And so I asked via Instagram how old her son is (he is now 13 years old).
That means the photos Ankit sent me where Asmita much younger.
Because her son is there still perhaps only 2 years old.
I asked him also if he knew her.
And he said he does know her in person.
There is a link with Ankit. So I also drew in her drawing on top: Happy Together.
Although the meaning behind it is for Asmita different than for Ankit. Read here Ankit's work story➜.
Information Technology (IT)
I drew 3 computer monitors on a table. Since she wants to be successful in IT. (I had also asked this to Ankit). And Asmita is sitting in front of the table looking at us with a big smile. Since her wish (in this drawing) has come true.
On the monitor, we can see some private photos of her and her son. On the most right monitor the numbers 13.
Which refers to the current age of her son but also relates to working in the IT sector.
She is a modern young woman of about 40 years old. So I drew her with blue hair. Also because I felt doing that.
Her hair looks like cables. So she is like the mother computer from which the wish and power come.
And she is doing it. She is taking care of her son. She is working. She is smiling. She is living.
She already is successful. 
Her blouse I painted red with nail polish. And in the wet paint, I drew a heart.
Since of her good heart. And her wish to be a good mummy.
Happy Birthday, Asmita. I wish for you that all your dreams now and in the future may come true!
The Happy Birthday Drawings are part of an ongoing art project, where I make small drawings for people for their birthdays. 
I then send them a YouTube video. In where I sing Happy Birthday and show their Happy Birthday drawing. And I send an email with the digital version of the Happy Birthday drawing.
Would you also like to have a drawing made for you on your birthday? It's FREE! 
Send me an email with:
⟶ Your day of birth 
⟶ How old you are going to be (optional)
⟶ What your birthday wish is (optional)
⟶ A photo of you (optional)
Do you like this type of art and this kind of work stories like these?
Fill in your email and receive it directly in your inbox.