Exhibition period 6-11 t/m 11-12 2021
Finisage on the 11 December 2021, 16:00-17:00
Egbert Gorterstraat 5
7607 GB Almelo, Netherlands
Questioning my Significance
I want to connect with my bridges. My Bridge-Performances are an artificial and safe way for me to do this. Just like a bridge is artificially created to bridge a possible obstacle, such as water, and to connect people and locations.
The Kunst-Torentje is a special exhibition space in the public space. Located between the Egbert Gorter bridge and the central station. Perfect!
The people who pass by the Kunst-Torentje are welcome to make contact. They can make the crossover by, for example, safely donating a colored pencil. I will then invite them to insert their pencil into the artwork. It's up to them. Do they want to connect? Or are they ignoring the process?
The bridge-artwork Questioning my Significance is an invitation to help build the actual work of art. But it's not necessary. The artwork will be built. And I'm very excited about this.
follow the Creation of the Work
Today, Monday 1 November,  audio professional Kees van der Knaap came to help me. Kees took care of the audio recording of the interviews I did today on the Egbert Gorter Bridge. We first worked together many years ago in 2007, during the Short Rotterdam film-production of my film Woman. 
There will be two raw looking speakers in the space playing these short interviews. Perhaps Kees will install waterproof speakers outside the Kunst-Torentje. So that the sound will be more hearable. 
Art Audio Album: Questioning my Significance.
Interviews around the Egbert Gorter Bridge in Almelo
Regie & Concept: Kim Engelen
Recording & equipment: Kees van der Knaap.
Also, today at 1 o'clock we met Menno Dimitri Ouderkerk from NTK (Stichting Nieuwe Twentse Kunst). He gave me the keys so I can work in het Kunst-Torentje (Art Turret). And stay at Het Kunsthuis which has generously provided by ceramics artist Erna Futselaar. 
The Bridge Sculpture will be exhibited at Kunst-Torentje (Art-Turret) in Almelo. This art turret is a quaint little tower in the city of Almelo in the province Twente. The Egbert Gorter Bridge is located right next to it. 
Five days time left to get ready for the opening on 6 November.
Day 3 - The Bridge Sculpture Skeleton
To create a human-size bridge sculpture.
The name of the bridge sculpture (and of the solo exhibition) is: Questioning my Significance.
Questioning my Significance
Temporary encounters play an important role in my work. Apparent contrasts I find curious, such as connection and letting go. Intimacy and distance. Home and disruption. Connection and broken connections.
I work interdisciplinary and explore installation settings in exhibitions, through which I seek to connect and communicate with the public. Kunst-Torentje is a transparant semi-public art space. I am in working in my own bubble, yet totally visible to the audience as in an aquarium. 
In my art practice, I think about making connections. Not as an end in itself. But more as a starting point in never-ending lessons in improving communication, setting boundaries, and staying or becoming yourself. In short, self-improvement through and in temporary communal constructions.
I had sent my idea to Menno Dimitri Ouderkerk, the director of the New Twentse Art Foundation. And I was delighted when I received the green light to exhibit in the Kunst-Torentje. Which meant I could bring my idea into reality. 
Besides receiving a working budget, I would also have a 1-week artist-in-residency at Het Kunsthuis Almelo. Here is where I am staying now while working on the artwork. 
Since July 2020 I also had a big material sponsor for colored pencils. But these pencils didn't reach me on time. So perhaps I will work with these another time.
On all sides of the Kunst-Torentje, there is glass. So it's very nice that it is a Bridge-Sculpture consisting of two pillars with trusses. So from all the four windows, I think the artwork is interesting to look at. All from a different angle. 
The sculpture is 150 cm (4.9 ft) tall. And 195 cm (6.4 ft) wide. That means bridge sculpture is high enough to be seen from the small side window. Come and have a look and see how large the sculpture is.
Today, Saturday 6 November, was the opening at 4 o'clock. And we had the local tv-news team from aavisie to report it. Yay!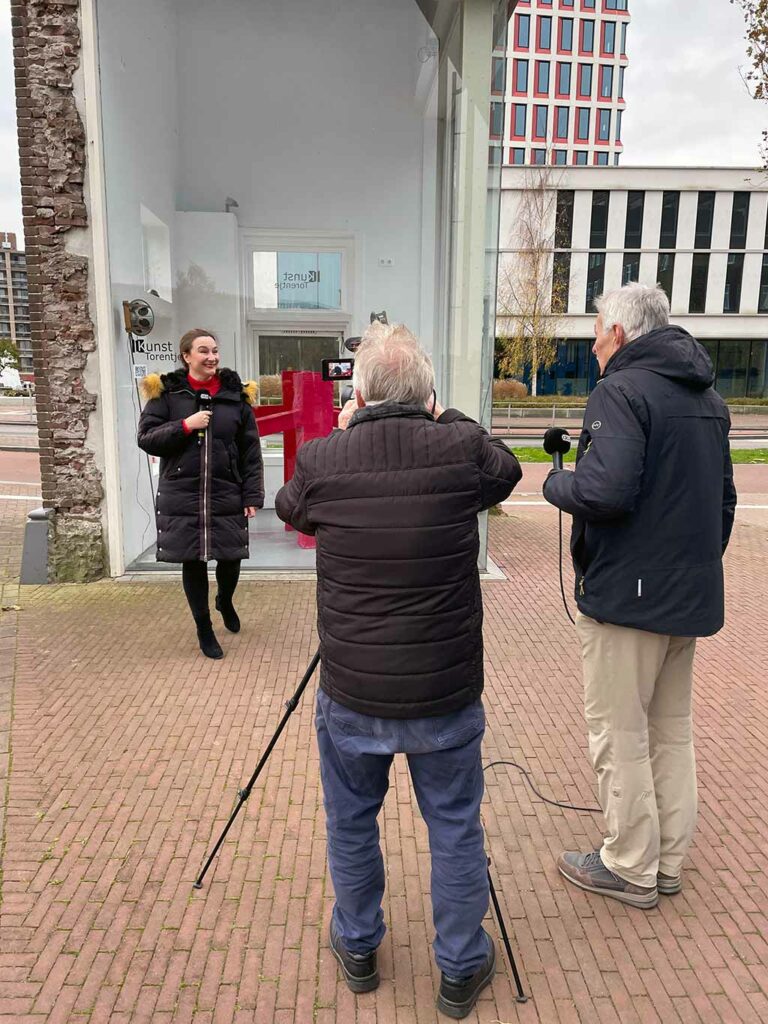 Today, Sunday 7 November,  I wanted to make documentation photos of the artwork. But it was raining. In the evening it was dry and Erna Futselaar and myself made some night-shots of the blue bridge and the multi colored Kunst-Torentje. You can see them as overlay of the Art Audio Album – Questioning my Significance. ↓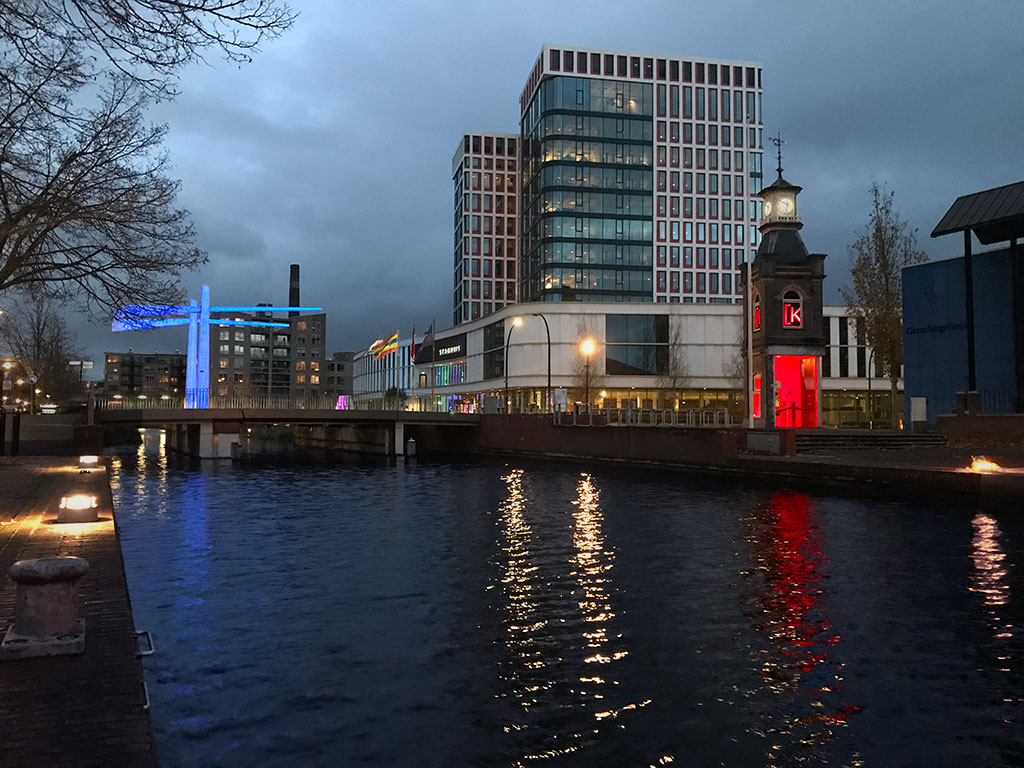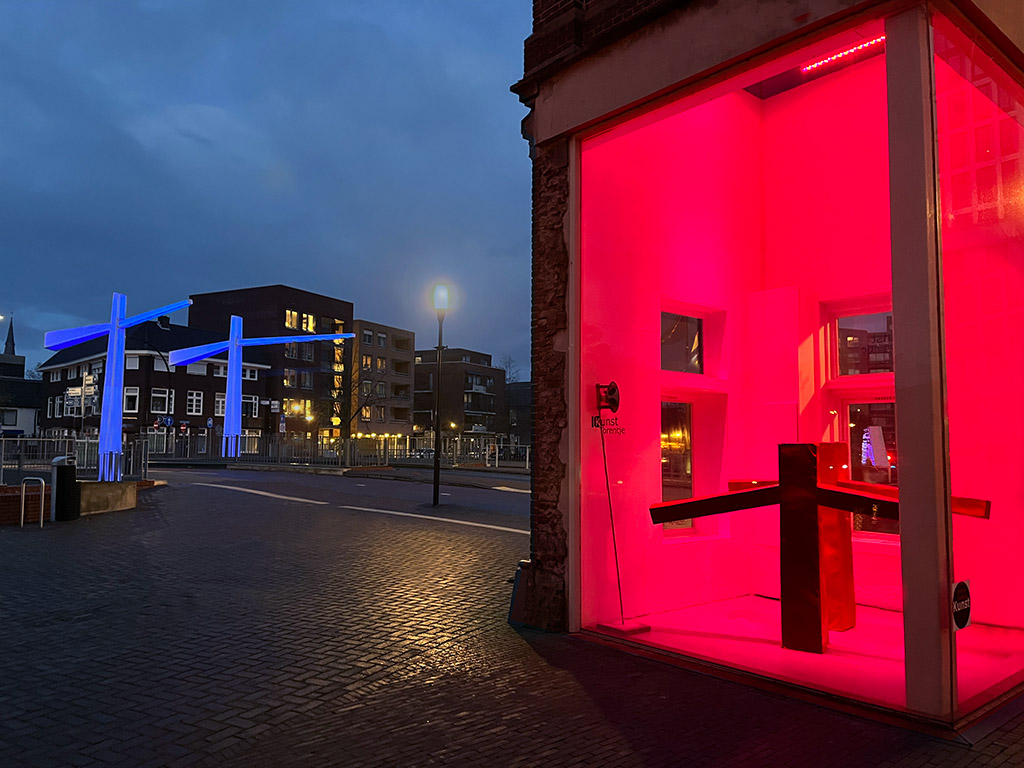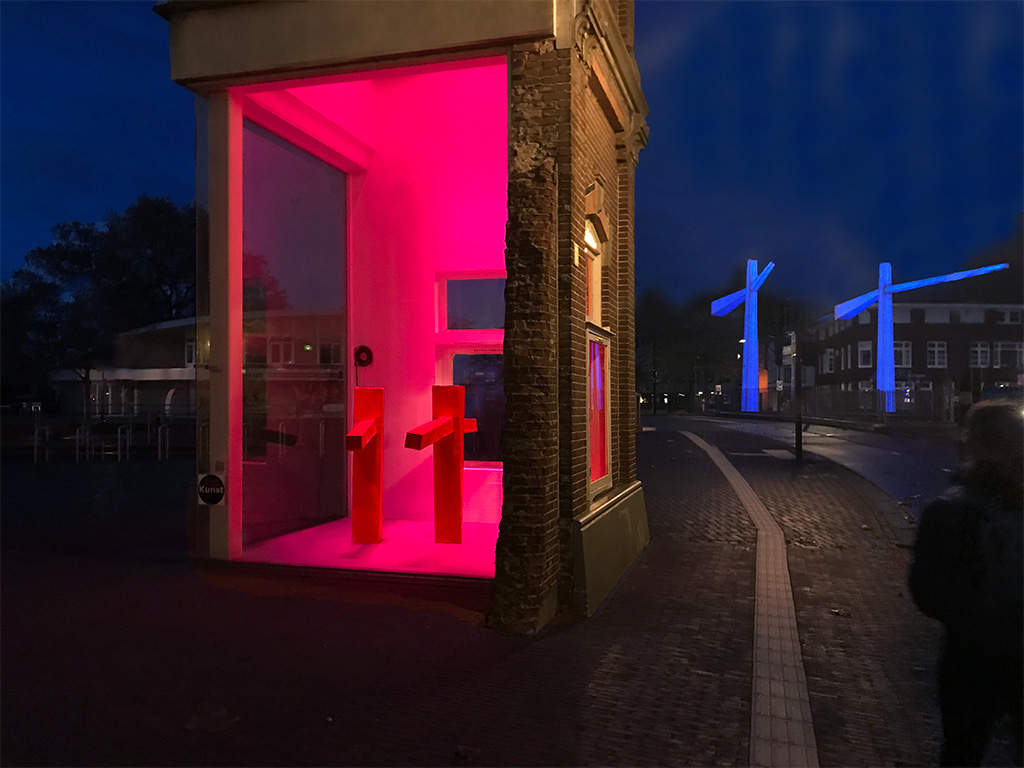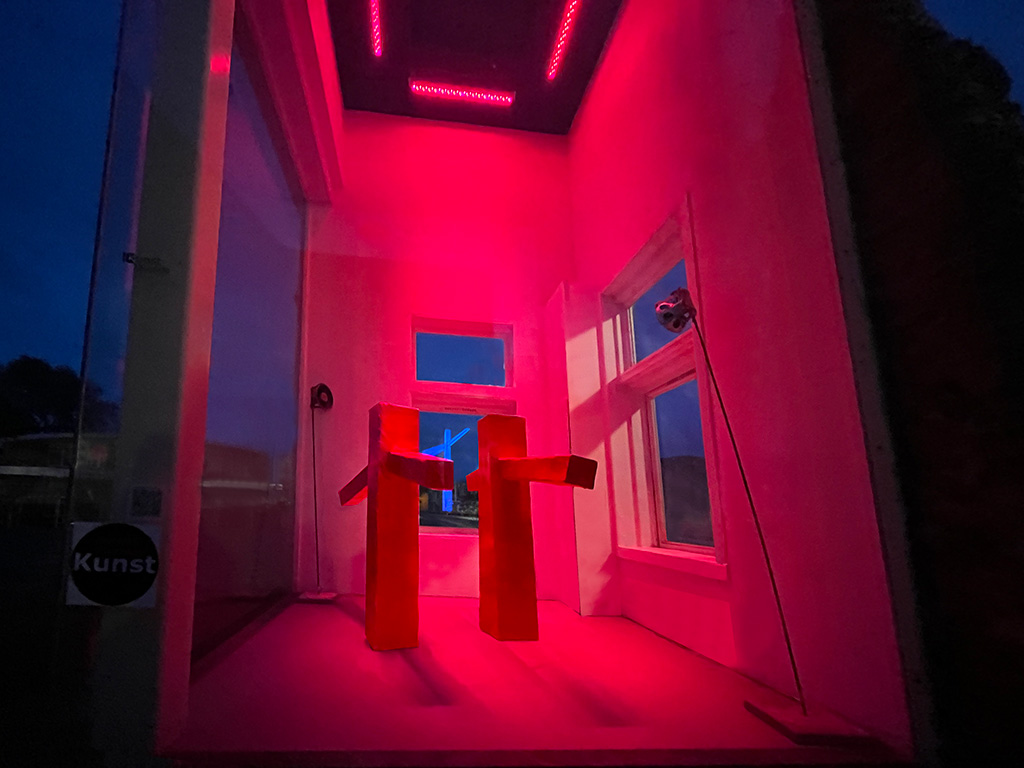 This was such an enjoyable opening and artist-in-residence. 
I want to warmheartedly thank Menno Dimitri Ouderkerk from Stichting Nieuwe Twentse Kunst for creating a platform for contemporary art and allowing me to create and show my work. A big thank you to Kees van der Knaap who took care of the audio part and for his support. A grateful thank you to Erna Futselaar who generously made the artist in residency possible at Kunsthuis Almelo. Thank you to the anonymous sponsors of the color pencils for believing in my idea and participating by donating the color pencils! Thank you to the people from Almelo for their friendliness.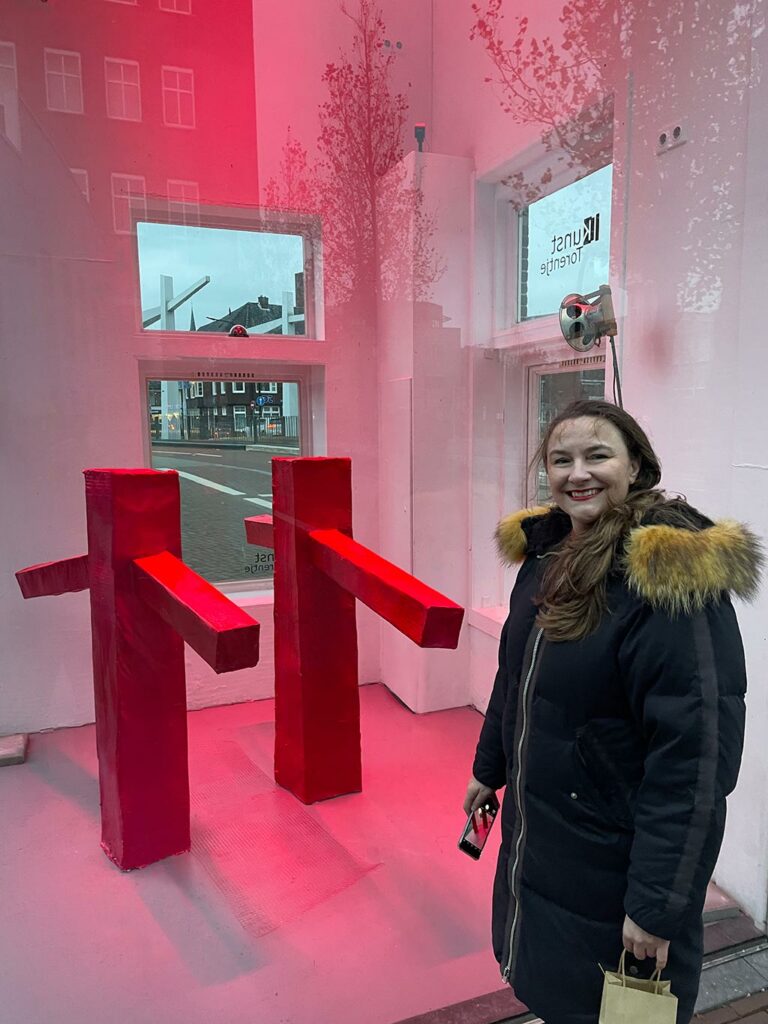 Now the artist in residence and workweek is over. And I will go back once more on the 11th of December. Then there will be a finisage. Where I will do a Art-Butchering Performance in the Kunst-Torentje. 
Art-Butchering Performance
My reason for being a vegetarian is that I am an animal lover and against the slaughtering of animals en masse. So doing this Art-Butchering Performance to me is emotional and abominable. 
Because I will be killing something that I love with all my heart—my art, it feels wrong somehow that I will annul my artwork. Because I will make it physically disappear. On the other hand, I did create it, so I can also do that. But it does not feel pleasant. It moves me. Will I be able to do it?  
And then it soon will be Christmas. where we celebrate the birth of Jesus. I have made photos of the sculpture. So perhaps you would like one as a beautiful art gift for the upcoming holiday. Or you would like the artist version of the Art Audio Album, Questioning my Significance, where you can hear the interviews I did next to the Egbert Gorter Bridge. These four hours of ultra-short talks are compressed into a 1-hour track. And are part of the art installation in Kunst-Torentje. 
Do you like this type of art and this kind of information? 
Receive it directly in your inbox, by filling in your email.